Please consider supporting Merrick Post No. 1282, American Legion, efforts.
VFW Free Covid-19 testing
On Saturday, January 22, 2022, there will be free Covid 19 testing at the Bellmore Veterans of Foreign Wars Hall for, 10:00 am to 2:00 pm. The Bellmore V. F. W. is located at 2400 Bedford Avenue, Bellmore, NY 11710. Testing is free but registration is required. We will only accommodate those with appointments. To schedule a Covid 19 testing appointment, please call 516-650-6107. For more information, please contact 516-650-6107 and/or, 212-447-1717. Thank you.
Law and Order Day 2022 Ceremony
On Sunday, March 27, 2022, at 3:00 pm, the Post will be conducting its annual Law and Order Day Ceremony for outstanding individuals who have served their community during the past year (2021) from the First and Seventh Police Precincts, the MTA/LIRR Police Department, the New York State Police Department, the Merrick and North Merrick Fire Departments and the Bellmore/Merrick EMS Department. Family members of these chosen individuals are invited to witness this ceremony. Refreshments will be served.
Read more: Law and Order Day 2022
Philip L. Williams Memorial Scholarship 2022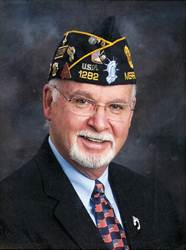 Philip L. Williams
Merrick Post No. 1282 will be awarding a Philip L. Williams Memorial Scholarship to a deserving Bellmore/Merrick high school senior who best exemplifies the qualities of Philip L. Williams.
Phil's core values were focused on Strong Morals: Patriotism, Family Values, Community Service and a strong Work Ethic. Phil was an inspiration because he took every opportunity to exhibit and incorporate these morals in his life. He made a difference to his fellow veterans, his co-workers, as well as his family and friends by reminding us to integrate these beliefs into everyday life.
Read more: Philip L. Williams Memorial Scholarship 2022
Boys State Leadership Program 2022

Boys State is a leadership action program where qualified male high school juniors take part in a practical government course designed to develop in them a working knowledge of the structure of government.
The qualified student must be in the top 80 percent of his class, be of moral character, a leader and in good health. These student candidates should be involved in physical training and organized sports along with their studies of and visits to various offices of state government.
Read more: Boys State Leadership Program 2022