In Memoriam - Frank DePergola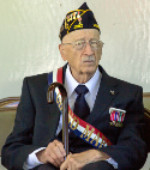 Frank DePergola

May 11
,

1932 to April 3, 2020
Dear Post Members, on Friday, April 3, 2020, Post member, Frank DePergola, passed away and reported to Post Everlasing. Frank DePergola, was a kind and gentle man. I first met Frank, at our Post meetings and he would also help the American Legion during their veteran fund rasing drive at the old Holmers Service Station in Merrick (now the B.P. service station) during the month of May. I got to know more about Frank DePergola, when he was the Grand Marshall for the Merrick's Memorial Day Parade and Ceremony on Memorial Day of 2013 (i.e. 5/27/2013). Post member Frank DePergola will be sorely missed.
Read more: In Memoriam - Frank DePergola
This event is cancelled due to the Corona Virus Pandemic!!!
Law and Order Day 2020 Ceremony
On Sunday, April 26, 2020, at 3:00 pm, the Post will be conducting its annual Law and Order Day Ceremony for outstanding individuals who have served their community during the past year (2019) from the First and Seventh Police Precincts, the MTA/LIRR Police Department, the New York State Police Department, the Merrick and North Merrick Fire Departments and the Bellmore/Merrick EMS Department. Family members of these chosen individuals are invited to witness this ceremony. Refreshments will be served.
Read more: Law and Order Day 2020 Ceremony
Boys State Update 2-24-2020
On February, 8 and 9 of 2020, a team made up of Post members interviewed four candidates for Boys State and their parents at the Merrick Library. All candidates attend Calhoun High School and met all academic criteria. The interview team was made up of Rich Mecabe, Al Garbarino, Gene St. John and myself. Two delegates were selected, Logan Bader, Emre Gouvenelir and one alternative was seledted , Luke Annbale.
After completing the interviews, the team felt strongly that the alternate, Lule Annibale, would also make an excellent delegate. I am now recommending to the membership that we increase the number of delegates that we sponsor from two to three. The additional cost is $450 and Rich Mecabe has obtained a donation from the Bellmore Post in the amount of $200 to defray the cost. Last year, we sponored three delegates to Boys State and the final delegate became an alternate to Boys Nation and was named Calhoun Valedictorian. I asked for a motion t allocate an additional $250 to increase our delegate count to three. I would like to thank Rich, Al and Gene for their support.
Frank D. Pedagno, Second Vice Commander