2017 Nassau County Veterans Service Agency Calendar
Saturday, April 22, 2017, Veterans Luncheon California Pizza Kitchen from 12:00 noon to 5:00 pm
Old Country Road, Westbury 11590
516-683-3338
Saturday, May 7, 2017 at 2:00 pm, Nassau County Veterans of Foreign Wars MIA POW Prayer Service
St Frances De Chantel Church
130 Wantagh Avenue, Wantagh
Contact Rick Gales - 516-437-7329
Saturday, May 20, 20117 at 2:00 pm, Vietnam War Veterans Assoication Prayer Service
Holy Redeemer Church
37 South Ocean Avenue, Freeport
Contact: Bruce Burnham - 516-771-4194
Saturday, May 27, 2017, USMC and Navy Helicopte Landing
Eisenhower Park Kite Field Navy: 10:00 am USMC: 12 noon
Sunday May 28, 2017 at 10:00 am to 12:00 pm, United Veteran Orgaization Memorial Day Ceremony
Eisenhower Park, Veteran Plaza, Field 6
Contact: Frank Colon, Jr. - 516-435-7066
Sunday May 28, 2017 at 1:30 pm, Long Island National Cemetery Memorial Day Ceremony
Contact: Frank Colon, Jr. - 516-435-7066
Read more: 2017 Nassau County Veterans Service Agency Calendar
Tenth Annual Military Ball/Post Commanders Night
Military Ball/Post Commanders Night at
Leonard's "La Dolce Vita"
555 Northern Boulevard
Great Neck, NY 11021
(516) 487-7900
Saturday, February 18, 2017
Cutoff Date: February 1, 2017
Contact 516-521-6989 for more information
$67 per Post Member, their guest goes free.
Mail Check to:
Merrick Post No. 1282, American Legion
160 West Merrick Road
Merrick, NY 11566
Memo/For: Military Ball/Post Commanders Night
Read more: Military Ball / Post Commander's Night 2017
POW/MIA remembrance service
1. The following is a suggested service for American Legion meetings, banquets, luncheons or memorial gatherings with a POW/MIA flag draped over an empty chair. This service can be adopted or modified for your own use. Members should remove their caps.
"Those who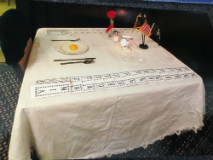 have served, and those currently serving in the uniformed services of the United States, are ever mindful that the sweetness of enduring peace has always been tainted by the bitterness of personal sacrifice. We are compelled to never forget that while we enjoy our daily pleasures, there are others who have endured and may still be enduring the agonies of pain, deprivation and imprisonment.
"Before we begin our activities, we pause to recognize our POWs and MIAs.
Read more: POW/MIA remembrance service
American Legion Outlines Expectation for Respect of U.S. Flag
1. The American Legion believes in the U.S. flag and everything it stands for, and Legionnaires who fought for the nation's symbol take deep pride in it. To continue its flag-protection efforts, the Legion's National Executive Committee adopted a resolution at its recent Fall Meetings in Indianapolis that outlines the or-ganization's expectation for rendering proper respect to the flag during Legion program participation at the department and national level.
Resolution 16 – brought forth by the Americanism Commission – also comes in light of recent actions by professional athletes, and now that of several youth sports teams, who are kneeling during the national anthem out of protest.
"The American Legion does not deny the right to protest, for that is a privilege given to all citizens of this great nation that is protected by our military and the service of our membership to defend our democra-cy," said Richard Anderson, Americanism Commission chairman. "'To foster and perpetuate a 100 per-cent Americanism' defines our responsibility to instill character, citizenship and sportsmanship, among other values. Resolution 16 defines only a small commitment to our youth, to maintain the values upon which The American Legion was founded."
Read more: American Legion Outlines Expectation for Respect of U.S. Flag