Veterans Food Pantry
Veterans Service Agency
"Vet Mart"
2201 Hempstead Turnpike, Building Q
East Meadow, NY 11554
516-572-6565
Read more: Veterans Food Pantry
Narcan Class
American Legion Merrick Post 1282 with the Long Island Council on Alcohol & Drug Dependency is sponsoring a "Free" Narcan class on June 16, 2016, if you are interested in this class please download document below and fill out by June 10, 2016.
Seating limited so a response is requested by June 10, 2016 with your name and the number of guests, if you have any questions contact Richard Mecabe, tel# (917)499-6626 or E-mail at This email address is being protected from spambots. You need JavaScript enabled to view it.
Post members at the Jones Beach Air Show 2016
Post member, Frank Pedagno has obtained a permit for our Post to attend the Air Show at Jones Beach on Saturday, 5-28-2016, for Memorial Day Weekend of 2016, to set up a table an give out American flags and Post pens to the public in order to increase patriotism, raise funds and increase membership at our Post. Frank Pedagno will chair this event, along with the help of Dino W. Degasperi, and Michael Kersch. A number of Post members will be participating in this event. Post members will be setting up a table just east of Center Hall at Jones Beach. Please support Post member, Frank Pedagno and our Post in this endeavor.
In need of a new Carillion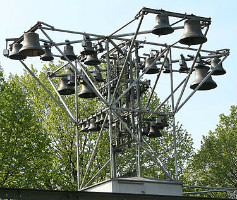 Example of a Carillion
We wish to thank those who are helping us to replace the worn out Carillion that has played for over 40 years at the Long Island National Cemetery. The original unit was donated by the AMVETS but they were unable to find the funds to replace it. All the Veterans organizations are being asked for donations to replace it with a new unit. The cost would be $15,000.00 and we would have to get a maintenance contract on the unit as required by the Veterans Administration.
Please make all checks payable to the LINCMO, Inc. and send to me:
Ken Cadieux
121 Powell Avenue
Rockville Centre, NY 11570
Remember to ear mark your check to the Carillion.
Read more: In need of a new Carillion