Please consider supporting Merrick Post No. 1282, American Legion, efforts.
"Information on Merrick's Memorial Day Ceremony 2021"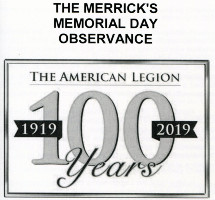 Merrick Post No. 1282, American Legion, will host the Merrick's Memorial Day Ceremony on Monday, May 31, 2021. Post members and Auxiliary members will meet at the Merrick's Veteran Memoial Park at 10:00 a.m. for a 10:30 a.m. ceremony. Covid-19 restrictions will apply, please bring your own chair at this event.
The parade and ceremony will be held rain or shine!!!
Post staff member, Richard M. Ambrosino, will chair this event.
Veteran Employment Opportunity
Employer is looking for veterans to work part time to assemble kits at a local warehouse in Oceanside N.Y.
See the following link for more information.
Here is the following contact information:
Ben Lido, President
Convenience Kits International Ltd
3401 Lawson Blvd
Oceanside, New York 11572
Phone#: 1-800-255-5436
www.facebook.com/conveniencekits
www.conveniencekits.com
In Memoriam - Charles P. Kerns

Charles P. Kerns

May 29
, 1920 to March 1, 2021
On March 3, 2021 Post member Charles P. Kerns reported to Post Everlasting. The Wake will be at N.F. Walkers Funeral Home in Merrick on Wednesday March 17, 2021 from 2:00 p.m. to 4:00 p.m. and from 7:00 p.m. to 9:00 p.m. If any Post member is interested in attending, the Merrick Post 1282, American Legion, solemn ceremony, for Post Member, Charles P. Kerns, we are going to meet at N. F. Walker's Funeral Home on Wednesday, March 17, 2020, at 2:00 pm for a 2:30 pm, American Legion ceremony. The North Merrick Fire Department will preform their service in the evening of that day.
Mr. Kerns celebrated his 100th Birthday on May 29, 2020 with a car parade in his honor. This car parade included members of the Nassau County Police Department, the Nassau County Firefighters' Pipes and Drums Band, the North Merrick Fire Department, the Franklin Square & Munson Fire Department, friends and family all drove by the Plattduetsche Retirement Home in Franklin Square, New York.
On this occasion Charles Kerns was presented an honorary badge from Police Commissioner Patrick Ryder, and New York State Senator John Brooks (8th Senate District) presented Mr. Kerns with a framed proclamation and Senate resolution extolling his contributions to the country.
Mr. Kerns was inducted into the Army at Camp Upton, New York on March 16, 1944. On June 20,1944 he was given the classification of Rifle Sharpshooter and Technician fourth grade. He served from December 16, 1944 to December 23, 1945 at the port of Le Havre France as a Cargo Operations Officer. After 36 years of service and attendance at the Army War College he retired as a Colonel on May 20, 1980. As a reservist he was on the West Point selection committee.
When Colonel Kerns turned 100 years old, he was the highest-ranking World War II veteran in Nassau county. He received the rank of a Colonel. He served in the United States Army for 36 years. He served as a logistics officer, overseeing the invasion of Normandy from Great Britain and then France as the war progressed, eventually managing the withdrawal of troops and equipment after the Allies' victory in Europe.
Read more: In Memoriam - Charles P. Kerns
Wreaths across America update
Dear Post members,
If interested in placing wreaths at L.I. National Cemetery in Farmingdale, you must sign up online as a volunteer.
Go to this link: https://www.wreathsacrossamerica.org/ - Scroll down to Volunteer and click on the button. Check the radio button, The Name of Cemetery and enter "Long Island National Cemetery". Then follow the directions on what day you will be there to lay the wreaths at the Cemetery.
There will be a staging area at AdventureLand parking lots on Rt. 110. You may take as many boxes of wreaths as you want or fits in your vehicle. Then proceed to cemetery.
The dates are : December 16th, December 17th and December 18th from 10:00 a.m. - 3:00 p.m. (See information online)
Any wreaths leftover will be distributed on December 19th.
We need to make this a Covid friendly event. PLEASE WEAR MASKS AND ADHERE TO PROPER SOCIAL DISTANCING.
Thank you to all who are participating.
We will keep you informed of other updates to this event. Thank you.