Veterans Day Ceremony 2019
Merrick Post No. 1282, American Legion will be conducting their annual Veterans Day ceremony on Monday, November 11, 2019, at the Merrick's Veteran Memorial Park starting at 10:30 a.m. Merrick's Veteran Memorial Park is located at the corner of Merrick Avenue and Lee Avenue, which is across the street from the Camp Avenue Elementary School (the Park's address is: 1580 Little Whaleneck Road, Merrick, NY 11566). We encourage our Post members, veterans, members of the public and especially Merrick residents to attend this event.
Free CPR/AED course at our Post
Dear Post and Auxiliary members, veterans and Merrick Residents,
The Post is setting up a CPR/AED course for certification on the use of a Defibrillator at our Post. The course is a 2.5 hour course, that is free, and we would like to have it on Sunday, October 6, 2019 at 1:00 p.m. If you would like to attend please call 516-521-6989, to hold you spot for this important event. It is recommended that representatives from the Post, Auxiliary and the Merrick Dance studio send members to this course, to get your certification on how to use the Defibrillator. This event is sponored by the North Merrick Fire Department in conjunction with the Robbiel Levine Foundation. Veterans and Merrick Residents are also free to join us at this event. Thank you.
Boys State Update 8-26-2019
I have invited the boys we sponored for Boys State to visit our next meeting in September. The purpose of the visit is to share their experiences with us and provide feedback so that we can improve our selection process going forward. Connor Andrews and Marc Eayadi have confirmed attendance and I continue to work to contact Tom Frank.

Frank D. Pedagno, Second Vice Commander
In Memoriam - Angelo J. Uberti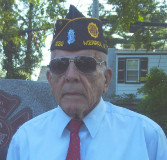 Angelo J. Uberti

June
2, 1934 to September 18, 2019
Dear Post Members, on Wednesday, September 18, 2019, Post Member, Angelo J. Uberti, passed away and reported to Post Everlasting., If any Post member is interested in attending the Merrick Post 1282, American Legion, solemn ceremony for Post Member, Angelo J. Uberti, we are going to meet at N. F. Walker's Funeral Home on Friday, September 20, 2019, at 6:30 pm for a 7:00 pm American Legion ceremony., N. F. Walker's Funeral Home is located at 2039 Merrick Avenue, Merrick, New York., For more information call the Post phone at 516-521-6989 or the Funeral Home at 516-378-0303. Thank you.
Angelo Uberti was a good man! The most striking thing about Angelo Uberti was his handshake. When you shook his hand you could feel his grip on your hand and you knew that the handshake was genuine. He firm handshake was evident, even when he was battling that dreadful Parkinson's disease. Angelo was very helpful at our Post and he will be sorely missed.
Read more: In Memoriam - Angelo J. Uberti