Post members at the Jones Beach Air Show 2016
Post member, Frank Pedagno has obtained a permit for our Post to attend the Air Show at Jones Beach on Saturday, 5-28-2016, for Memorial Day Weekend of 2016, to set up a table an give out American flags and Post pens to the public in order to increase patriotism, raise funds and increase membership at our Post. Frank Pedagno will chair this event, along with the help of Dino W. Degasperi, and Michael Kersch. A number of Post members will be participating in this event. Post members will be setting up a table just east of Center Hall at Jones Beach. Please support Post member, Frank Pedagno and our Post in this endeavor.
In need of a new Carillion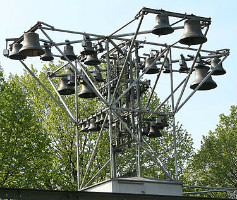 Example of a Carillion
We wish to thank those who are helping us to replace the worn out Carillion that has played for over 40 years at the Long Island National Cemetery. The original unit was donated by the AMVETS but they were unable to find the funds to replace it. All the Veterans organizations are being asked for donations to replace it with a new unit. The cost would be $15,000.00 and we would have to get a maintenance contract on the unit as required by the Veterans Administration.
Please make all checks payable to the LINCMO, Inc. and send to me:
Ken Cadieux
121 Powell Avenue
Rockville Centre, NY 11570
Remember to ear mark your check to the Carillion.
Read more: In need of a new Carillion
Recruitment Letter for Merrick Post No. 1282, American Legion members who have not paid their 2015-2016 dues
Commrade Veteran,
My name is Kenneth J. Braun, third year Commander of Merrick Post No. 1282, American Legion, here in Merrick. I am sending you a personal note to renew your membership in the proud organization of The American Legion. I see you have been a past member for the past xxx years and would hate to see you leave now.
Membership supports our Post to help our Veterans. We here at the Merrick Post No. 1282 make visits with gifts and supplies to many veterans at the nursining homes of Stony Brook and Northport. We support many civil gourps, including Boys and Girls Scout troops. We are stronger with you than without you.
Dear Veteran, I am sending along an addressed stamped envelope for you to send in your dues for $35.00 for the 2016 year. Make your check payable to American Legion Merrick Post No. 1282. For any reason you feel you do not want to be a member any longer, please send back my note with a reason and maybe I could be of help in some way.
Yours for the Good of the Legion
Kenneth J. Braun, Post Commander
Ninth Annual Military Ball/Post Commanders Night
Military Ball/Post Commanders Night at
Leonard's "La Dolce Vita"
555 Northern Boulevard
Great Neck, NY 11021
(516) 487-7900
Saturday, February 20, 2016
Cutoff Date: February 1, 2016
Contact 516-521-6989 for more information
$67 per Post Member, their guest goes free.
Mail Check to:
Merrick Post No. 1282, American Legion
160 West Merrick Road
Merrick, NY 11566
Memo/For: Military Ball/Post Commanders Night
Read more: Military Ball / Post Commander's Night 2016