Merrick Legion Post 1282, as I remember
By Jake J. Bohn
Editor's Note: The following is account of how Merrick American Legion Post 1282, formed in the words of one of its founders, 94-year old John J. Bohn.
In the beginning there wasn't a veteran's organization in the Merricks. It was a community of people working together of respect and dedication. The population at the end of World War II was a mere 25,000.
Yes, I could be wrong, but when I was a young boy around 1915, I believe the population was something like 12,000. But after WWII, The Merricks grew like every other community on Long Island. It is now perhaps a city in some respects with a population of some 45,000. I would love to go back to the 1930s when you could walk the Merrick Village and know every storekeeper and every other person shopping in Merrick. Merrick was just a step above a whistle stop for the Long Island Rail Road. We had a nice railroad station house, small but quaint.
After WWII, some of the veterans wanted an organization and a place to meet.
Read more: Merrick Legion Post 1282, as I remember
A veteran serving other veterans

By Laura Lane Mervosh
Webmaster's Note: The Post encourages woman veterans to join our Post. The following article is about one such woman veteran, Barbara Bryne. The article is dated but it gives insight to one of our women veterans. Barbara Byrne is an active member of the Post and is a member of the American Legion Auxiliary Merrick Unit 1282.
When Barbara Byrne turned 19 years old, she partook in the adventure of a lifetime. She enlisted in the Women's Army Corps. In 1961, the climate in the country was different than now. As the Berlin Wall was erected, many people were inspired by patriotic feelings and enlisted to serve their country in the military. Byrne was working for an insurance company at the time and thought military service would be exciting.
Read more: A veteran serving other veterans
List of Merrick Post No. 1282, American Legion, Commanders and the years they served
Note 1: The American Legion Calendar Year is from July to June.
Note 2: Merrick Post No. 1282, American Legion, is part of 1st Division, District #: 10.

Read more: List of Past and Present Commanders
Merrick Post No. 1282, American Legion, receives a Mail/Flag Box from the Town of Hempstead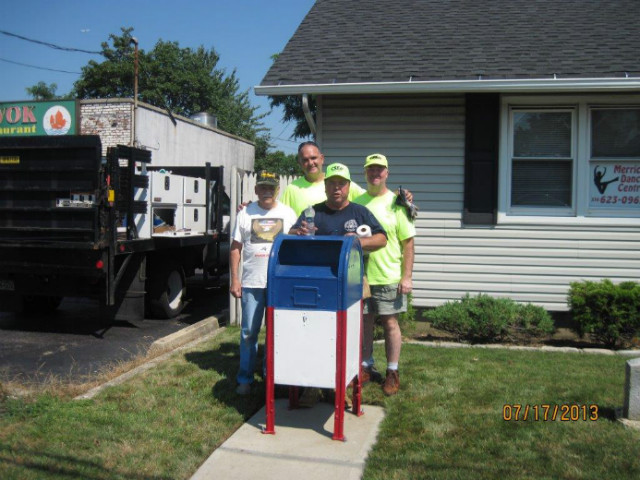 On the Night of March 7, 2013 or in the early morning of March 8, 2013, a vehicle drove through the front property of the Merrick Post No. 1282, American Legion, damaging the Post's Mail Box, which we use to store old U.S. flags that need to be disposed of.
Read more: The Post receives a new Flag Box