A Recipe for a Healthy Life
by Susan Eichhorn
As a member of the Girl Scouts of Nassau County since I was five years old, I am finally working to achieve the highest honor available in the Girl Scout community - the Gold Award. For my project, I will promote living to children age 6 to 12 a healthy lifestyle through education and fun activities and games. My goal is to teach children the benefits of eating healthy, exercising regularly through body-moving activities, and helping the environment through these simple lifestyle changes.
Obesity has been on the rise in our world, our country, and even, the small town of Merrick. As more fast food restaurants are being built, as more video games are being created, and as new electronic devices are being invented, children are rapidly living increasingly sedentary lives filled with unhealthy and environmentally-destructive habits.
My project consists of a five hour-long sessions filled with entertaining and simple ways for children to live healthy lifestyles and help the environment in the process.
Read more: A Recipe for a Healthy Life
Girl Scout Gold Award Plan sponored by Susan Eichhorn
General:
a. Five sessions
b. One hour each
c. Children between the ages of 6 and 12
Purpose: To combat the growing rate of obesity in our nation by teaching children easy healthy eating tips and simple exercises to keep their bodies moving. I hope to show kids the benefits of leading a healthy lifestyle and the long-term effects of using my tips.
Session 1: Colorful Choices
a. Show a 15 minute Powerpoint about how to make a meal healthier by adding more colorful ingredients like fruits and vegetables and about healthy recipes.
b. Show the children pictures of unhealthy meals and ask them how they can make them healthier.
c. Play a game where the kids get split up into groups and each group is assigned a color. The team with the greatest number of healthy ingredients for their color wins.
d. Do one of the recipes with the children (fruit salad, ants on a log, etc.).
e. Give out handouts of the recipes.
Read more: Girl Scout Gold Award Plan
The Frank DePergola Story
From Brooklyn to Berlin
By Dennis M. Small
Webmaster's Note: The following Story is about Merrick Post No. 1282, American Legion member, Frank DePergola. Mr. DePergola was the 2013 Grand Marshall in our Merrick's Memorial Day Parade and Ceremony.
I rec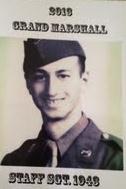 ently had the pleasure of meeting Frank DePergola at his home in North Merrick, where he resides with his grandson and family. He is a patient at the VA Hospital and comes into the hospital on one of the Nassau Runs. He is a World War II Veteran and served in the European Theater.
He is a man small in stature but with a history larger then life. This son of Italian Immigrants from Bari, Italy was born in Little Italy on Mulberry Street on May 11th 1923. Later his family moved to Brooklyn. Frank is 90 years old, and is totally self-sufficient. His recall of events was remarkable and I liked this man immediately upon meeting him. Here is his story. Photos left are Frank back in the day.
Read more: The Frank DePergola Story
Honor Flight
I am a Merrick Post No. 1282, American Legion, member and I am involved in a program called "Honor Flight". The Honor Flight program transports World War II Veterans for free who have not seen their World War II Memorial in Washington D.C. The visit to Washington D.C. is a one day trip which involves a flight out MacArthur Airport, a coach bus to and from the World War II Memorial, a boxed lunch, dinner at a restaurant and a flight back from Washington D.C. to MacArthur airport.