American Legion Cap Protocol
The revised Protocol & Planning guide (Revision 2) is available on the Department Web-site. The following is Appendix J of the manual:
Legion Cap Etiquette:
The American Legion Cap is both symbolic and illustrative ot Legionnaires and conveys a distinct message to the general public about American Legion Membership. The cap should be decorated in accordance with the guidelines of Resolution 31, July 1967, of the Department of New York. It must be neat and orderly in it appearance.
Read more: American Legion Cap Protocol
Formation of An American Legion Band
Note: The following Correspondence is from Massapequa Post #1066 Member, William Giannone, to All Post Commanders, Auxiliary Members and Sons of the American Legion concerning the Formation of The American Legion Band. This article was taken from the September 2014 edition of the Nassau County Legionnaire.
Legion Family,
I would like to start a band of American Legion members on Long Island. Here is my background. I joined the American Legion at the beginning of this year. I am a member of Post 1066, Massapequa.
I have a bachelor's and master's degree in Music. I was in the Army for 3 years. I was a Special bandsman. That means I was assigned to a Special Band, the West Point band. I also was a member of the 26th Army band on Staten Island. After the Army, I joined the NY National Guard. I was the Bandmaster (Warrant Officer) of the 42nd Infantry Division band.
I want to form a concert band, comprised of American Legionnaires form post on Long Island. The purpose of the band will be to promote fraternity and camaraderie among Legionnaires and to perform music at Legion functions and public venues.
Read more: Formation of An American Legion Band
Pearl Harbor survivor awarded Distinguished Veteran Citation
by Eileen Dever
Note: Dear Reader is an old article form Merrick Life (January 10, 2008) about Irving William Halleran a Pearl Harbor Survivor and a former member of our Post. Unfortunately, our friend, Bill Halleran passed away December 9, 2011 and Merrick Life ceased their operations 2013, however, I wanted to show you, the Reader, what type of people belonged to our Post.
When the surprise attack was launched by the Japanese Navy and and Air Forces on Pearl Harbor, December 7, 1941, almost the entire Pacific fleet was moored there at the time. Battleships, cruisers, destroyers, submarines were bombed, strafed, and sunk. Alert sounded: Air raid... This is not a drill!
Read more: Pearl Harbor survivor awarded Distinguished Veteran Citation
Respectful farewall to flags
by Ted phillips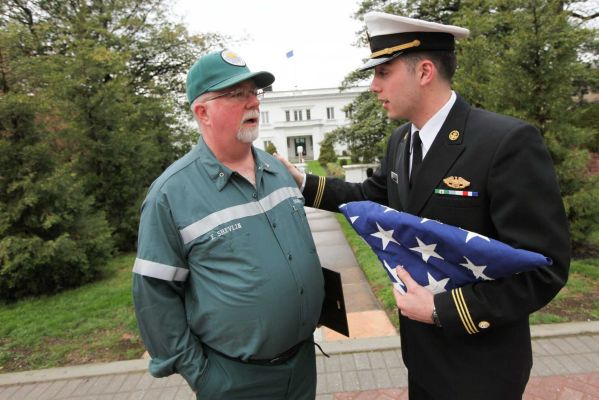 Hundreds of tattered and soiled American flags -- some of them retrieved from garbage cans after superstorm Sandy -- received a formal send-off by fire Saturday night in Kings Point.
The solemn ceremony held at the U.S. Merchant Marine Academy was assisted by a large contingent of Boy Scouts.
The damaged flags were collected by New York City sanitation worker Edward Shevlin of Rockaway Park, Queens, who mounted a one-man campaign to properly dispose of the national symbol.
Read more: Respectful farewall to flags