Respectful farewall to flags
by Ted phillips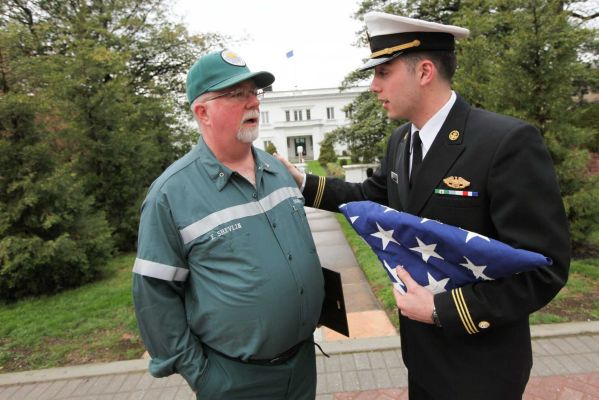 Hundreds of tattered and soiled American flags -- some of them retrieved from garbage cans after superstorm Sandy -- received a formal send-off by fire Saturday night in Kings Point.
The solemn ceremony held at the U.S. Merchant Marine Academy was assisted by a large contingent of Boy Scouts.
The damaged flags were collected by New York City sanitation worker Edward Shevlin of Rockaway Park, Queens, who mounted a one-man campaign to properly dispose of the national symbol.
Read more: Respectful farewall to flags
Eagle Scout Ceremony - Brian Dobkowski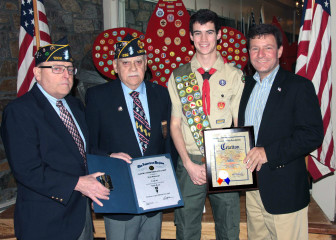 On Sunday March 23, 2014 at 1:00 p.m., Post members, Josepht T. Ambrosino (Sergeant At Arms) and Robert Dishman attended the Eagle Scout Ceremony for Eagle Scout, Brian Dobkowski at the Merrick Golf Course Clubhouse, Banquet Hall, Clubhouse Road, Merrick.
1 "Brian Dobkowksi's Eagle Project was the planning, organizing and managing the refurbishment of the Sacred Heart Roman Catholic Church's Parish Center building. In order to raise money to fund the project, Brian held a bake sale at the church on the weekend of August 11th and 12th, 2012. Fellow scouts, family, and friends contributed the baked goods and also aided in the event, which in the end successfully raised over $1,300. Brian additionally went around asking local businesses for help, and these institutions generously donated to both the bake sale and the actual Eagle Project.
Read more: Eagle Scout Ceremony - Brian Dobkowski
Eyeglasses for Veterans
Note: The following letter was dated March 5, 2014, from Licensed Optician, Ella Krugolets to Post Commander, Kenneth J. Braun.
Ella's Vision Optical
108 West Park Avenue
Long Beach, NY 11561
Tel. 516-255-7223
Dear Mr. Kenneth J. Braun,
My Name is Ella Krugolets. I'm a former Optician from Northport VA Medical Center. During my time at the hospital, it was my pleasure meeting many good people and listening to their stories both happy and sad. The experience was humbling.
Read more: Eyeglasses for Veterans
Dear Veterans, if you were in the military during the following dates you are eligiable to join the American Legion. Our Post is American Legion Merrick Post No. 1282. We are located at 160 West Merrick Road, Merrick, NY 11566. If you would like to join our Post contact us at 516-521-6989 and/or This email address is being protected from spambots. You need JavaScript enabled to view it. . Here is eligibility dates to join the American Legion:
World War I
April 6, 1917 to November 11, 1918
World War II
December 7, 1941 to December 31, 1946
Read more: Membership Eligibility Dates