Vietnam Memorial Sign
If any knows the where abouts of a Vietnam Memorial sign/monument that used to be on the corner of Merrick Avenue and Sunrise Highway, in Merrick, New York, in the early 1970's (e.g. 1971-1972). Please contact me. Thank you.
Community Read Aloud Day
Note 1: The following letter was addressed to Post Member, Barbara Byrne, from the Lakeside Elementary School officials for her participation in the above event.
Dear Lakeside Friend,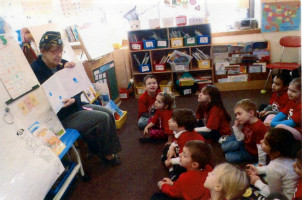 On behalf of the children and staff of the Norman J. Levy/Lakeside School, we would like to thank you for participating in our Site-Based Team's Annual Community Read Aloud Day on January 17, 2014. Our student's greatly enjoyed your visit.
Read more: Community Read Aloud Day
American Legion, Merrick Post No. 1282, Ad in the Celebration of 75 years of Merrick Life
Merrick Post No. 1282, American Legion would like to congratulate and salute Merrick Life's 75th year of service to the Merrick Community in the Merrick Herald Life pubilication. A special thanks goes out to former Merrick Life publisher, Linda Toscano and Merrick Life editor, Paul Laursen and their staff. Another special thanks goes out to senior editor of Merrick Herald Life, Scott Briton. Thanks to you all for being their for us. See the following pdf.
Read more: Merrick Post 1282 Ad
The Merrick's Veterans Killed in Action
Those who have made the Supreme Sacrifice for our country
World War II
Harold Kenneth Ahlquist
Alfred William Amari
Clifford E. Bahnsen
Walter Edwin Baldwin
Walter J. Burke Jr.
Harry Gregory Chernucha
Edward Macdonald Dobson
Continue Reading: The Merrick's Veterans Killed in Action