Uniform Cap Etiquette
by Reginald Butt, Jr., Protocal Committee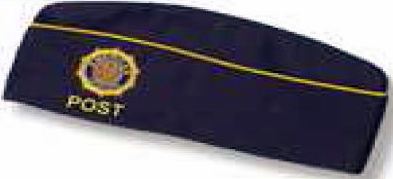 The left side (emblem side) of the cap is reserved only for Legion emblem, city, country, district or state lettering.

If desired, the items must be placed on the right side of cap:
Additional lettering, restricted to either the name of a Post or to an officer title, such as Past Commander.

Cap insignia or badges for past or present officers.

Consecutive membership insignia, membership stars, and or authorized Legion or military service decorations.

Names or nicknames of individual members cannot be used on caps.
Read more: Uniform Cap Etiquette
Merricks pay homage to local veterans
by Scott Brinton
Veterans, elected leaders, firefighters and Boy Scouts circled around a lectern at Veterans Memorial Park in North Merrick on Monday to salute America's veterans.
In a brief, but emotional ceremony, the crowd of about 50 marked Veterans Day on the 11th hour of the 11th day of the 11th month.
Read more: Merricks pay homage to local veterans
Cell Phone Collection Program
by Reginald Butt, Jr. PCC
The recycling program has expanded and it now includes these items:
Cell phones
Cell phone accessories
IPods and MP3 Players
Handheld game systems
GPS handheld units
Laptop computers
E-readers
Portable hard drives
Keep collecting any of the above, bring them to the County meeting or if you have a large amount call me to arrange a drop off or pick up at your local Post.
A Recipe for a Healthy Life
by Susan Eichhorn
As a member of the Girl Scouts of Nassau County since I was five years old, I am finally working to achieve the highest honor available in the Girl Scout community - the Gold Award. For my project, I will promote living to children age 6 to 12 a healthy lifestyle through education and fun activities and games. My goal is to teach children the benefits of eating healthy, exercising regularly through body-moving activities, and helping the environment through these simple lifestyle changes.
Obesity has been on the rise in our world, our country, and even, the small town of Merrick. As more fast food restaurants are being built, as more video games are being created, and as new electronic devices are being invented, children are rapidly living increasingly sedentary lives filled with unhealthy and environmentally-destructive habits.
My project consists of a five hour-long sessions filled with entertaining and simple ways for children to live healthy lifestyles and help the environment in the process.
Read more: A Recipe for a Healthy Life