A veteran serving other veterans

By Laura Lane Mervosh
Webmaster's Note: The Post encourages woman veterans to join our Post. The following article is about one such woman veteran, Barbara Bryne. The article is dated but it gives insight to one of our women veterans. Barbara Byrne is an active member of the Post and is a member of the American Legion Auxiliary Merrick Unit 1282.
When Barbara Byrne turned 19 years old, she partook in the adventure of a lifetime. She enlisted in the Women's Army Corps. In 1961, the climate in the country was different than now. As the Berlin Wall was erected, many people were inspired by patriotic feelings and enlisted to serve their country in the military. Byrne was working for an insurance company at the time and thought military service would be exciting.
Read more: A veteran serving other veterans
List of Merrick Post No. 1282, American Legion, Commanders and the years they served
Note 1: The American Legion Calendar Year is from July to June.
Note 2: Merrick Post No. 1282, American Legion, is part of 1st Division, District #: 10.

Read more: List of Past and Present Commanders
Merrick Post No. 1282, American Legion, receives a Mail/Flag Box from the Town of Hempstead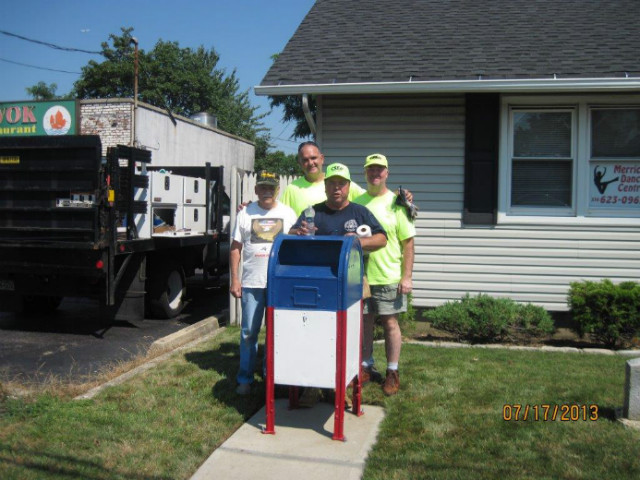 On the Night of March 7, 2013 or in the early morning of March 8, 2013, a vehicle drove through the front property of the Merrick Post No. 1282, American Legion, damaging the Post's Mail Box, which we use to store old U.S. flags that need to be disposed of.
Read more: The Post receives a new Flag Box
A new beginning.... Hello World!!!
Hi folks,
Well, this is my first live attempt at starting a new website for the post. I hope you like it, and hopefully, I can improve on the website. The site is based mostly on Joomla which is a content management system. Joomla basically gives you their basic templates with a number of features which are free and then their are vendors who have "third" party extensions that are "free" or you have to buy a "subsriptions" to make the site more functional. Joomla is based on open source code, to find out more about joomla click or visit this link (http://www.joomla.org/about-joomla.html). I like free stuff so I am basically using extensions that are free, with a little code (php, html, javascript) mixed in.
Continue Reading... Introductory Blog