Please consider supporting Merrick Post No. 1282, American Legion, efforts.
In Memoriam - Angelo J. Uberti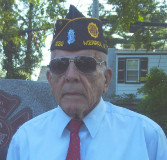 Angelo J. Uberti

June
2, 1934 to September 18, 2019
Dear Post Members, on Wednesday, September 18, 2019, Post Member, Angelo J. Uberti, passed away and reported to Post Everlasting., If any Post member is interested in attending the Merrick Post 1282, American Legion, solemn ceremony for Post Member, Angelo J. Uberti, we are going to meet at N. F. Walker's Funeral Home on Friday, September 20, 2019, at 6:30 pm for a 7:00 pm American Legion ceremony., N. F. Walker's Funeral Home is located at 2039 Merrick Avenue, Merrick, New York., For more information call the Post phone at 516-521-6989 or the Funeral Home at 516-378-0303. Thank you.
Angelo Uberti was a good man! The most striking thing about Angelo Uberti was his handshake. When you shook his hand you could feel his grip on your hand and you knew that the handshake was genuine. He firm handshake was evident, even when he was battling that dreadful Parkinson's disease. Angelo was very helpful at our Post and he will be sorely missed.
Read more: In Memoriam - Angelo J. Uberti
Merrick Street Fair 2019
Dear Post members, our post will participate in the year's Merrick Street Fair (Merrick Fall Festival) sponsored by the Merrick Chamber of Commerce, which will be held on September 7th and 8th of 2019, at the Merrick Avenue, in Merrick. Post members will be there from 10:00 a.m. to 3:00 p.m. on both days. Post members please come out to this event and help us raise fund for veterans. Thank you.
Revised Date to see Long Ducks Baseball Game 2019
The revised date to see the Long Island Ducks baseball game is Saturday, September 7, 2019. The cost of each ticket is $15.00 per person. The game starts at 6:30 pm. We will be meeting at the American Legion, Merrick Post No. 1282, at 3:30 pm for a complimentary lunch after which time we will car pool to the stadium. There is a limit of 25 tickets, so it is first come, first serve. This event is open to EVERYONE, NOT just Post members. So bring your kids and grandkids., Post members we really would like you and your families to participate in this event, therefore, please make a day of it, and lets go to the ball park and have some fun., To reserve you ticket call John Weber at 516-426-3682, please buy your tickets early (First come first serve). Post members who will be attending this game please try to wear your light blue American Legion short sleeved shirt to represent your Post at the game. Hope to see you at the game. Thank you.
John Weber, Post Member
11 Key Things to Know About the Legion Act
Legislation extends ongoing declared period of war back to December 7, 1941
(Dear Reader, the following material was taken from the American Legion Dispatch, August 2019 edition, a National Headquarters Publication)
With President Trump's signature on the LEGION Act, the ongoing declared period of war was extended back to December 7, 1941. The congressionally approved act is a way to honor thousands of veterans who were killed or wounded on duty during periods not previously considered a time of war.
"Finally Congress has acknowledged the service and sacrifice of at least 1,600 veterans who died or were wounded in previously undeclared periods of war," said American Legion Judge Advocate Kevin Bartlett.
"This new law honors the memories of those veterans while allowing other veterans from those previously undeclared eras to receive all the American Legion benefits they have earned through their service."
The LEGION Act – Let Everyone Get Involved in Opportunities for National Service Act – also redefines The American Legion's membership eligibility dates. The eligibility now spans from December 7, 1941, until a time when the U.S. is no longer at war, as determined by Congress.
Here are answers to 11 key questions about the new law and what it means for the American Legion.
Read more: 11 Key Things to Know About the Legion Act