Thank you note from Nortport for Post Visit on 12/10/2016
Department of Veterans Affairs
Medical Center
79 Middleville Road
Northport, NY 11768
January 5, 2017
Mr. Jamew O'Neill, Commander
Merrick Post 1282
160 Merrick Road
Merrick, NY 11566
Dear Mr. O'Neill and the Members of the Merrick Post 1282.
On behalf of the Recreation Therapy Service, Veterans and staff at the Department of Veteran Affairs, Northport, New York, we would like to take this opportunity to thank you and your members for the wonderful donation of gift cards and canvas bags.
Read more: Thank you note from Nortport for Post Visit on 12/10/2016
Thank you note from Stony Brook for Post visit on 12/16/2016
Long Island State Veterans Home
At Stony Brook University
100 Patriots Road
Stony Brook, New York 11790-3300
Phone: 631-44-8607 Fax: 631-444-8575
www.listateveteranshome.org
Fred S. Sganga, FACHE
Executive Director
December 19, 2016
American Legion Merrick Post 1282
160 W. Merrick Road
Merrick, NY 11566
To Whom it may Concern:
On behalf of the residents of the Long Island State Veterans Home, thank you so much for your very generous donation given for the 2016 holiday season decorations. Your gift will help fund this year's Holiday trees and decorations for the residents' Home.
Read more: Thank you note from Stony Brook for Post visit on 12/16/2016
POW/MIA remembrance service
1. The following is a suggested service for American Legion meetings, banquets, luncheons or memorial gatherings with a POW/MIA flag draped over an empty chair. This service can be adopted or modified for your own use. Members should remove their caps.
"Those who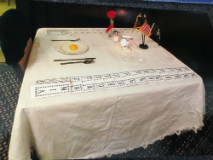 have served, and those currently serving in the uniformed services of the United States, are ever mindful that the sweetness of enduring peace has always been tainted by the bitterness of personal sacrifice. We are compelled to never forget that while we enjoy our daily pleasures, there are others who have endured and may still be enduring the agonies of pain, deprivation and imprisonment.
"Before we begin our activities, we pause to recognize our POWs and MIAs.
Read more: POW/MIA remembrance service
American Legion Outlines Expectation for Respect of U.S. Flag
1. The American Legion believes in the U.S. flag and everything it stands for, and Legionnaires who fought for the nation's symbol take deep pride in it. To continue its flag-protection efforts, the Legion's National Executive Committee adopted a resolution at its recent Fall Meetings in Indianapolis that outlines the or-ganization's expectation for rendering proper respect to the flag during Legion program participation at the department and national level.
Resolution 16 – brought forth by the Americanism Commission – also comes in light of recent actions by professional athletes, and now that of several youth sports teams, who are kneeling during the national anthem out of protest.
"The American Legion does not deny the right to protest, for that is a privilege given to all citizens of this great nation that is protected by our military and the service of our membership to defend our democra-cy," said Richard Anderson, Americanism Commission chairman. "'To foster and perpetuate a 100 per-cent Americanism' defines our responsibility to instill character, citizenship and sportsmanship, among other values. Resolution 16 defines only a small commitment to our youth, to maintain the values upon which The American Legion was founded."
Read more: American Legion Outlines Expectation for Respect of U.S. Flag