In Memoriam - Faye E. Ambrosino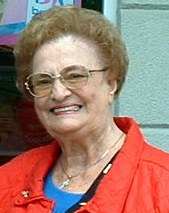 Faye E. Ambrosino
March 2, 1932 - March 14, 2013
On March 14, 2013, Auxiliary Member, Faye E. Ambrosino passed away due to number of medical issues. Faye was a devoted wife, mother of three children and a friend to many people. Faye had many nieces and nephews. She was 81 years old. She will be sorely missed.
The following writings are from the American Legion Auxiliary Merrick Unit 1282 members concerning Faye E. Ambrosino.
"Faye was a sweet and fabulous lady. We became friends the very day we met. I will miss Faye for many reasons: for her smile, for her humor and for her generosity. My sympathy to Joe Sr., Joe Jr. and Rick. Faye, until we meet again."
Lucy Murphy
Auxiliary President
"Those we love don't go away.
They walk beside us every day.
Unseen, unheard, but always near.
Still loved, still missed and very dear."
Betty Tucker
Auxiliary 1st Vice President
"Faye - The Lady with The Beautiful Smile
You will always be in our thoughts.
Your love will always be in our hearts.
The memories of you will always be part of our lives.
You will always be part of our American Legion Auxiliary family."
Florence Hoffman
Auxiliary 2nd Vice President
"I am deeply saddened by the passing of Faye Ambrosino. Faye was a kind hearted woman with a warm and friendly smile that always made everyone feel special."
Sharon Williams
Auxiliary Treasurer and Membership Chairman
"When Faye Ambrosino walked into a room, her smile lit up the whole place. She was a good wife, mother and friend. She was always concerned about others when she herself was not feeling well. Faye was a very generous person, as most of us know by the sharing of her culinary treats. We will miss Faye very much. I know she is smiling down on us."
Toni Uberti
Auxiliary Executive Board
I'd like the memory of me to be a happy one, I'd like to leave an afterglow of smiles when life is done. I'd like to leave an echo whispering softly down the ways, of happy times and laughing times and bright and sunny days. I'd like the tears of those who grieve, to dry before the sun. Of happy memories that I leave when life is done..