In Memoriam - Vincent J. Gabriele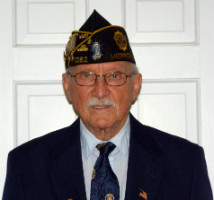 Vincent J. Gabriele, PC
June 5, 1927 - January 10, 2019
Dear Post Members, on Thursday, January 10, 2019, Past Post Commander, Vincent J. Gabriele, passed away and reported to Post Everlasting., If any Post member is interested in attending the Merrick Post 1282, American Legion, solemn ceremony for Post Member, Vincent, we are going to meet at the Bellmore Funeral Home on Tuesday, January 15, 2019, at 6:30 pm for a 7:00 pm American Legion ceremony., Bellmore Funeral Home is located at 2340 Jerusalem Avenue, North Bellmore, New York., For more information call the Post phone at 516-521-6989 or the Funeral Home at 516-781-2022. Thank you.
Obituary of Vincent J. Gabriele (courtesy of Newsday)
Vincent J. Gabriele of North Merrick passed away in his home on January 10, 2019, the age of 91, after a brief illness. Beloved husband of the late Adele. Loving Fatherof Michael (wife Joanne), Donald, and the recently deceased Judy Pinney (Chuck). Cherished Granfather of Christine and Michael (wife Kathleen) and 3 Great-Grandchildren Vanessa, Samantha and Patrick. Loving husband to the late Susan, loving Stepfather to the late Gary Wisniewski and step-grandfather to Theodore, Elijah and the late Evan. A proud Navy Veteran of WWII and a man of may talents. Vinny worked 32 year for WNBC-TV as a videotape engineer and ultimately Supervisor of video-tape central at 30 Rock. As a member of the South Shore Power Squadron, he served on the Board of Governors and as an Instructor and Chaplain. A member of the Veterans of Foreign Wars, Post 5253, he also served as Commander of the American Legion Merrick Post No. 1282 from 2001 to 2005. He was loved and adored by all and forever remembered in our hearts.
Family and Friends may visit the Bellmore Funeral Home, 2340 Jerusalem Avenue, North Bellmore on Tuesday, January 15th from 2:00 p.m. to 4:00 p.m. and 7:00 p.m. to 9:00 p.m. Mass will be held on Wednesday at 10:15 a.m. at Sacred Heart R.C. Church in North Merrick. Interment to follow at Calverton National Cemetery.
See the following link:
******************************************************
Dear reader, the following article was taken from the October 2010 Post Newsletter.
Member Spotlight
Every organization should have a person who knows an organization's protocols, by-laws, procedures, and its rules and regulations. For American Legion, Merrick Post 1282, as Judge Advocate, Vincent J. Gabriele fits that bill and the Post is glad to have him. Vincent J. Gabriele is a tireless advocate for the Post's activities and functions. He was instrumental in updating the Post's constitution and by-laws.
Here are some of Vincent J. Gabriele's Life achievements:
White Plains New York High School

U.S. Navy, USS Franklin D. Roosevelt CVB-42, World War II

R.C.A. Institute

Chief Engineer, WVOS, Liberty, New York

WOR-TV Audio Engineer

WNBC-TV Video Tape Engineer, Supervisor

Treasurer, Manager - Metro New York NABET Federal Credit Union

Secretary Treasurer National Association of Broadcast Employees and Technicians, NABET

Contract Negotiating Committee, ABC, NBC, RCA Victor, National Black Network

Editor, Local 11, NABET News and Views

By-Laws Committee Chairman, Local 11 NABET, Senior Center, Merrick Post 1282

Delegate New York City Central Labor Council

Scouters Award – Boy Scouts of America

Chairman Nassau County Cub Scout Pow - Wow 1965

New York State Life Membership, P.T.A.

Nassau County Committeeman 1967-1985

Nominated, Best Video Tape Editing, 1973-1974 News Special, National Academy of Television Arts and Sciences

Life member, Unites States Power Squadron

Chaplin, Board of Governors, Instructor, South Shore Power Squadron

Holy Name Society

Nocturnal Adoration Society

Secretary Treasurer Gabson Enterprises, Inc.

President, Gabcom Properties Group II, Inc.

Member Veterans of Foreign Wars, Post 5253

Commander, American Legion, Merrick Post 1282, Merrick, New York (2001 to 2005)
Since joining the Post in September of 1997, Vincent J. Gabriele has worn many hats and performed many functions in his association with the Post. Here is just of few of his accomplishments: He has served as Law and Order Chairman, Citizenship and Americanism Chairman, Awards Presenter of Numerous Boy Scout Courts of Honor, Awards Presenter at numerous High School Awards Programs, annual participator at the Northport VA facility. He planned and presented Americanism & Citizenship programs at three of our local elementary schools with videotape shows and lectures for proper Flag etiquette. The schools call him to participate in their programs while they respond by encouraging the students to collect greeting cards, stamps, used eyeglasses, hearing aids and aluminum pull-tabs. He also has represented Merrick Post 1282 by attending many County Meetings, Chaplin Services, legislative, membership, caucus, division meetings and Department and County Conventions and Conferences.
This reporter has talked with Vincent J. Gabriele on numerous occasions. The impression that I am left with is that he is a strong advocate of Post Members and Officers in showing "initiative" in volunteering for Post projects and learning American Legion procedures and protocols. For example, if the Post has a project or event being planned, Vincent believes that a Post member and/or officer should actively volunteer for the project or event, instead of waiting around to be asked to participate in the project/event. He also believes that if a Post officer or member is not sure about a Post procedure, they should ask other Post members to clarify the procedure or seek the answer to their question, instead of waiting around and to be told about the procedure or protocol. Some people may not agree with some of his ideas, but these ideas surely have merit. Vincent J. Gabriele plays an important role in this organization and we are honored with his participation in the organization.
***********************************************
Side Note: When this reporter went to his home he was very proud of this (word processor - was a precursor to the modern day computer). He complemented me on my work with the newsletter. He loved his late second wife (Sue) very much. He also was a big a proponent of flag etiquette. He wrote a letter to father Zachery Callahan, during one incident at our veterans day mass at the church one year (which side the American Flag should be on from the church alter). Vince was a stickler for having things precise, was a strong proponent of protocol. He will be sorely missed!!!