In Memoriam - Angelo J. Uberti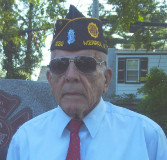 Angelo J. Uberti

June
2, 1934 to September 18, 2019
Dear Post Members, on Wednesday, September 18, 2019, Post Member, Angelo J. Uberti, passed away and reported to Post Everlasting., If any Post member is interested in attending the Merrick Post 1282, American Legion, solemn ceremony for Post Member, Angelo J. Uberti, we are going to meet at N. F. Walker's Funeral Home on Friday, September 20, 2019, at 6:30 pm for a 7:00 pm American Legion ceremony., N. F. Walker's Funeral Home is located at 2039 Merrick Avenue, Merrick, New York., For more information call the Post phone at 516-521-6989 or the Funeral Home at 516-378-0303. Thank you.
Angelo Uberti was a good man! The most striking thing about Angelo Uberti was his handshake. When you shook his hand you could feel his grip on your hand and you knew that the handshake was genuine. He firm handshake was evident, even when he was battling that dreadful Parkinson's disease. Angelo was very helpful at our Post and he will be sorely missed.
Obituary of Angelo J. Uberti
Angelo Uberti Jr, 85, of Merrick passed away on September 18, 2019, after bravely battling Parkinson's Disease for 23 years. He was born June 2, 1934 in Queens NY to Isabella(Lopez) and Angelo Uberti Sr., and grew up in Rockaway Beach, NY.
He is survived by his loving wife of 60 years, Toni (Antoinette Santorella), his children and their spouses John (Linda), Angela Mahoney (Charlie) and Anthony (Jeanne), six loving grandchildren, Marianna, Giovanna, Michael, Isabella, Ryan and Tyler and his dear sister Anna Coombes (Roy).
He is predeceased by his father, Angelo Uberti Sr., his mother Isabella Uberti, and his brother Louis J. Uberti (Anita).
Visitation is Friday, September 20 from 2-4 PM and 7-9 PM at N.F. Walker Funeral Home, 2039 Merrick Ave, Merrick, NY. The funeral mass is Saturday, September 21 at 9:30 AM at Cure of Ars Roman Catholic Church, 2323 Merrick Ave, Merrick, NY.
Internment will be at Long Island National Cemetery, 2040 Wellwood Avenue, Farmingdale, NY on September 24, 2019 at 11:00am. Memorial donations may be made to The Michael J. Fox Foundation for Parkinson's Research via https://www.michaeljfox.org/donate
Note: Courtesy of N.F. Walker Funeral Home.
See the following link: