The Frank DePergola Story
From Brooklyn to Berlin
By Dennis M. Small
Webmaster's Note: The following Story is about Merrick Post No. 1282, American Legion member, Frank DePergola. Mr. DePergola was the 2013 Grand Marshall in our Merrick's Memorial Day Parade and Ceremony.
I rec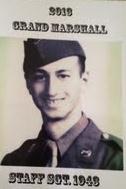 ently had the pleasure of meeting Frank DePergola at his home in North Merrick, where he resides with his grandson and family. He is a patient at the VA Hospital and comes into the hospital on one of the Nassau Runs. He is a World War II Veteran and served in the European Theater.
He is a man small in stature but with a history larger then life. This son of Italian Immigrants from Bari, Italy was born in Little Italy on Mulberry Street on May 11th 1923. Later his family moved to Brooklyn. Frank is 90 years old, and is totally self-sufficient. His recall of events was remarkable and I liked this man immediately upon meeting him. Here is his story. Photos left are Frank back in the day.
Frank was drafted in 1942 and was given a choice which branch of the service he wanted. His mother told him, "Don't take the Navy, those ships sink and everyone dies". So Frank chose the Army. He went from Whitehall Street in NYC to Camp Campbell in Mississippi for training. He was assigned to Patton's 3rd Army, 5th Infantry Division, and 10th Battalion, F Company. After training in Camp Campbell for three months he boarded a troop ship to Europe, which eventually docked in Northern Ireland. The trip across the Atlantic took three more months as they zigged-zagged to avoid German submarines. Frank and his unit landed in Northern Ireland for more training, which would last eight months. Finally on June 16th 1944, D-Day plus 10, Frank and his unit landed on Utah Beach, France, and all that training would now be put to use.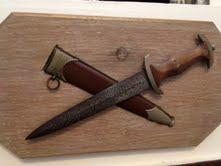 After landing on Utah Beach, Frank and his Unit would go on to fight across France and into Germany. His battles included places like the Ardennes Forest; Battle of the Bulge, Battle of Frankfurt and into Berlin. Frank was wounded in the Battle of the Bulge when he was hit with "Frag" in the knee. He was awarded the Purple Heart. The wound was not serious enough to be sent home so he continued on fighting. Also, at the Battle of the Bulge, he and his men captured a German Major. The captured Major was wearing a dagger. Frank liked the dagger so he kept it as souvenir. He said to the Major "You won't be needing this anymore". The dagger is hanging on the wall of Frank's home to this day (see photo). Frank went on to say that "the Battle of the Bulge was brutally cold, and it was a battle that the Germans needed to win. But we held on and finally won that battle and it was a turning point for us in the war."
On one occasion Frank was sent back to Headquarters to pick up new maps for the operations to be conducted in the next few days. He decided to walk through the woods back to the command tent and he took his German Luger pistol with him. On the way he spotted two Germans sitting in the woods talking. He approached them with his pistol drawn and they jumped up, dropped their weapons and surrendered. Frank went on to say he thought they were worn out from this war and wanted to surrender. So Frank marched back into the command post with two prisoners instead of the maps. His CO said "Hey DePergola, I send you out for maps and you come back with prisoners". Frank said to me "They gave me the Bronze star for that" and he chuckled.
Frank said, "As we were fighting across France we were encountering stone and rock walls in the fields, which the Germans had built. We were getting killed. Then George Patton came in and said, 'This is no way to fight a war' so he started a whole new thing." "We got onto trucks to advance to different towns and got off and fought and we're beating them up like crazy. We made it all the way to the City of Metz and Eisenhower stopped us." "Eisenhower and Patton were always bucking heads" Frank said, "Patton wanted to go right into Russia and Eisenhower said no."
The Battle of Frankfurt was a brutal battle as the Germans were trying to keep that city. It was a major victory for Frank's unit in the war. Frank went on to say he and a fellow soldier were walking down a street in Frankfurt after the battle and they passed a German Bar. Frank said to his buddy, "I'd like to get some of that German beer." So they walked into the bar and there were about 20 young German men standing around the bar in civilian cloths. Frank asked for two beers and the bartender said "No beer, no beer." Frank and his buddy left the bar. When he got back to the camp he told his Captain about the bar filled with young men in civilian cloths. They went back to the bar and the men were actually German soldiers that had discarded their uniforms and were abandoning the Army. Frank said, "I knew then we were going to win this war if the soldiers of the German Army were deserting."
When Frank had reached the German/Polish border they came across a large building and they went in to see what was inside. Frank went on to say, "We found all these people and they began running out of the building wearing black and white striped clothing. We realized that we had just liberated a concentration camp filled with Jewish and Polish prisoners." Frank said, "When we got into the camp the conditions were terrible and the stench was overpowering with dead human remains. The people were ecstatic and hugging us. I never saw anything like this; it was something I will never forget".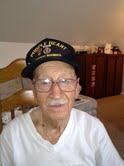 It had been 11 months since Frank set foot on French soil at Utah Beach. He had fought his way across France, Germany and into Poland. His battle and campaigns included Normandy, Northern France, Rhineland, Central Europe and Ardennes. Frank, (Photo left) had three brothers that also served in the war at the same time. In Frank's Platoon of 20 men, everyone was wounded at least once and Frank was one of only four who survived. Sixteen were killed in action. Near the end of the war, while standing on a street in Poland, a mortar round landed in the street next to Frank. It did not detonate. Frank said, "It just stuck in the ground next to me". For sure, someone was watching over him. Photos below are a display of his medal and ribbons and Frank in the Memorial Day Parade in Merrick last year. He was the Grand Marshal. Frank has three daughters, seven grandchildren and seven great grandchildren. God Bless America and Keep Her Safe From Harm.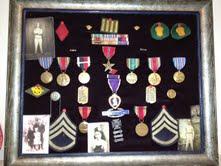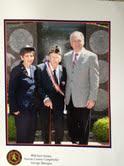 The below quote, found in the pocket of a dead American Soldier in WW I, describes the tenacity and the extraordinary courage of the American Armed Forces. This quote was also used in President Ronald Reagan's first Inaugural Speech.
"America shall win this war. Therefore, I will work. I will save. I will sacrifice. I will endure. I will fight cheerfully and do my utmost, as if the whole issue of the struggle depended on me alone."
Private Martin A.Treptow, US Army, WWI
Author's Note: The DAV Transportation Network is a Long Island based Transportation Service which provides free transportation to all Veterans to and from VA Hospitals. All the drivers are volunteers and the Vans are provided through donations. Visit our web site www.davtn.org.
Note: Small, Dennis M., "The Frank DePergola Story – From Brooklyn to Berlin", DAV Newsletter, September 2013, pp. 6-8