"Information on Merrick's Memorial Day Ceremony 2021"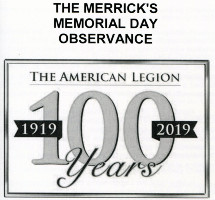 Merrick Post No. 1282, American Legion, will host the Merrick's Memorial Day Ceremony on Monday, May 31, 2021. Post members and Auxiliary members will meet at the Merrick's Veteran Memoial Park at 10:00 a.m. for a 10:30 a.m. ceremony. Covid-19 restrictions will apply, please bring your own chair at this event.
The parade and ceremony will be held rain or shine!!!
Post staff member, Richard M. Ambrosino, will chair this event.