Merrick's Memorial Day 2019 Grand Marshal, James W. O'Neill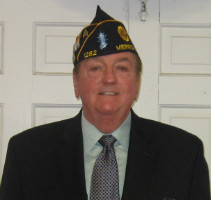 James W. O'Neill

Jim was drafted into the United States Army on February 15, 1966 at the age of 19. He received specialized training as a Combat Engineer at Fort Leonard Wood in Missouri and was shipped overseas to Vietnam in July of 1966. He landed in Saigon, South Vietnam and was assigned to the 588th Engineer Battalion. His main duties involved setting up base camps, clearing personnel, claymore, and anti-Tank mines, and explosives. He was involved in building hospitals, mess halls, and living facilities for the troops.
Jim was involved in several military operations to rescue troops who were in jeopardy of being overrun by the enemy. This was done by building and repairing roads, bridges, and airstrips so the troops could advance their positions.
Jim's platoon received two, unit citations for rescuing the infantry units of the 101st Airborne who were trapped deep in enemy territory.
Jim received the Army Commendation Medal for bravery, when his lieutenant was wounded by gunfire. Although Jim was told to stand fast until enemy fire was pinpointed and destroyed, he picked up his wounded lieutenant and carried him to a waiting ambulance. His lieutenant was saved by Jim's quick thinking and bravery while under fire. His lieutenant who hailed from Suffolk County, New York returned back to duty after two months, after he recuperated in a military hospital in Japan. The other soldier, who was also wounded and put in the same ambulance, died of his wounds upon arrival at the hospital. Jim said the inside of the ambulance had so much blood; it looked like the inside of a butcher shop.
Jim was also awarded the Vietnam Service medal, Republic of Vietnam Campaign Medal, National Defense Service Medal, Good Conduct Medal, and Two Unit Citations. He returned to the states from a 12-month tour of duty in Vietnam with the rank of Sergeant E-5. His last six months, he was stationed at Fort Belvoir in Virginia as an administration sergeant in the Chief of Staff's Office working directly for the Commanding General.
Jim also suffered from PTSD and Survivor's Syndrome after he was assigned with his best friend to a Rock Quarry engineering mission. At the last minute, Jim was sent on another assignment. The mission he was supposed to have gone on included his best friend and 11 other men. On this mission all twelve men were killed when two satchel bombs were thrown in their tent. Jim had intensive therapy for two years to try and understand why he survived while the other men that he was scheduled to be with were all killed. Even today he struggles with the hardships that he endured but has learned that war is brutal, but we must adapt ourselves the best we can.
After serving his country, Jim was discharged from the Army and became a Nassau County Police Officer. He also continued his education under the GI Bill and received a four-year degree at Adelphi University earning a Bachelor of Science Degree in both Criminal Law and Business. Jim eventually made the rank of Detective and retired from the Police Department after 25 years of service and as well, as a highly decorated police officer.
Jim then took a job as a Fraud Investigator at AIG Insurance Company where he worked for another 18 years. He was able to save the insurance company millions of dollars in proving criminal actions in many of his cases. Unfortunately, Jim was forced to retire due to severe back problems and from the effects of Agent Orange, which he was exposed to in Vietnam during his military service.
Jim is currently serving as the Commanding Officer of the American Legion, Merrick Post No. 1282, where he is completing his third term as Commander. He is dedicated to the plight of all Veterans and is continuing to help those Veterans who fought for our country.
Jim's biography is listed in the United States Library of Congress; he has been inducted into the Merrick Library Hall of Hero's and is listed on the Wall of Hero's at the Eisenhower Park Veteran's Memorial in Nassau County, New York.