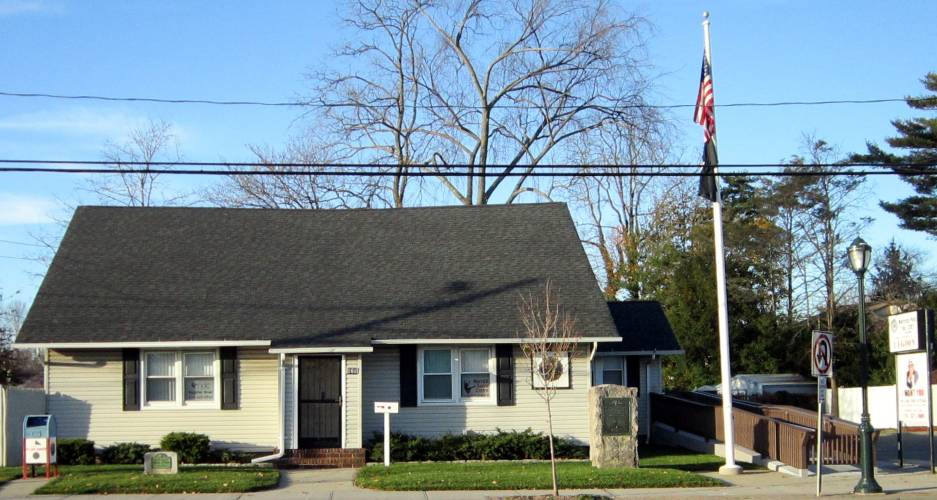 From Humble Beginnings...
In 1946, Merrick Post No. 1282, American Legion, was moved from South Merrick to our present location of 160 Merrick Road, Merrick N.Y. 11566. The American Legion Post Building was cut in half, transported to this new location and then joined together again.
Although physically divided during the move, the Merrick Post No. 1282 building and organization has been a united fixture in the Merrick community and surrounding communities in Nassau County. Under the direction of past Commanders, Robert C. Wieboldt, Robert T. Riordan (i.e. a Past County Commander), Jack Murphy, Vincent J. Gabriele, Philip L. Williams, Bernard H. Hoffman, Edward R. Sholander, Kenneth J. Braun, James W. O'Neill and up to our Present Commander, Robert E. Dishman, our non-profit organization has tried to make the community aware of the United States of America veterans concerns and needs.
The Preamble to the Constitution of The American Legion gives the general mission statement of our post and other American Legion posts in our community and nation. What the Merrick Post No. 1282, American Legion, tries to accomplish is to raise the awareness of veteran concerns and problems encountered in our community and to support our service men and woman who are serving in our Armed Forces. Our post participates in community activities, while making the community aware of its existence in the community. The Post has over one hundred and fifty-six members and has its own internal meetings and functions. In addition, Merrick Post No. 1282 has an Auxiliary chapter (American Legion Auxiliary Merrick Unit 1282), whose mission is to support the American Legion and the community it serves.
About Our Building...
A Familiar Spot To All Merrick Veterans, the building above was part of the Tennis Court and Club House in Merrick and now serves as headquarters for Merrick Ameican Legion Post 1282. Originally, the small structure stood on Byron Road, south of Merrick Road, to the west of Merrick Avenue. The tennis court area extended to Merrick Avenue. In days gone by, the Club house was a great social spot in the community, where gala masquerade balls and many parties were held. It was customary for Merokians of a gone-by day to gather at the Club House on Saturday afternoon to watch the tennis players and then remain for tea. One Labor Day of many years ago there was a greased pig race at the Club, with the baby pig caught by well-known residinet P.R. Jennings who owned an estate on Merrick Road.
The Legionnaires purchased the building in 1946, when the Post was growing with post-war membership. They cut it in half to move it in sections to its present location on Merrick Road (160 West Merrick Road, Merrick, New York 11566). Members did the labor, and Joe Pizza, who was a cement contractor here, laid the foundation for the new site. Over the years, members of the Post have remodelled the building which was just a shell when they got it, into a pleasant meeting place it is today.