In Memoriam - Louis G. Saraceni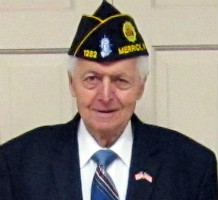 Louis G. Saraceni

March 2
, 1941 to November 30, 2020
On Monday, November 30, 2020, Post Member, Louis G. Saraceni, passed away and reported to Post Everlasting. Louis G. Saraceni was a good man and hard worker throughout his life. He was an active member of our Post and help us with many projects at the Post. He was a fair and honest man. He will be sorely missed.
American Legion members please gather at 6:30 p.m. on Thursday, December 3, 2020, at N.F. Walkers funeral home in Merrick, N.Y. for an American Legion solemn ceremony at 7:00 p.m. for Post member Louis G. Saraceni.
For Church at Cure of Ars, American Legion members gather at 10:30 a.m. for an 11:00 a.m. Funeral Mass on Friday, December 4, 2020.
The following is information from N.F. Walker Funeral Home:
Obituary of Louis G. Saraceni
Louis G. Saraceni, of Merrick passed on November 30, 2020. A proud US Army Veteran of the Vietnam War. He was a Foreman for Perez Interboro Inc. of Queens NY.
Beloved husband of Mattia Saraceni. Devoted father of Anthony Saraceni (Joanne) and Sal Saraceni (Maria) . Dear brother of Giovanna Saraceni. Loving Grandfather of Louis, Dominic, Nicole and Gabrielle.
A Funeral Mass will be offered at 11:00 am on Friday, December 4 at Cure Of Ars R. C. Church, 2323 Merrick Avenue, Merrick, NY Interment with Military Honors at St. John's Cemetery, Middle Village NY.
Visiting will be Thursday, December 3, 2020 from 3PM - 5PM &7PM - 9PM at N. F. Walker Funeral Home 2039 Merrick Avenue, Merrick, NY.
American Legion Services Thursday 7PM
See the following link:
The following is an article from when Louis G. Saraceni was the Grand Marshal at the Merrick's Memorial Day Parade and Ceremony for 2018.
Merrick's Memorial Day 2018 Grand Marshal, Louis G. Saraceni
Louis Saraceni was born in 1941 in Orsogna, Italy, a small town on the Adriatic Coast near a tall mountain, La Maiella. When the German's occupied the town because of its proximity to the mountain, Lou's family had to leave their home and live in a grotto. When the war was over and they went back to their house, everything was gone.
In 1955 when Louis was fourteen, he and his father immigrated to the United States. They lived with a relative who sponsored them in Astoria, Queens, where many of their other townspeople settled, until they could afford their own apartment. They worked hard for three years so they could send for his mother and sister.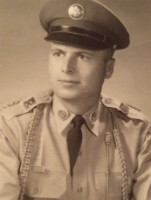 A young Louis G. Saraceni
Lou was drafted into the U.S. Army in 1963. He trained in Fort Polk, LA and was later sent to Fort Riley, KS. He had to learn to eat hominy grits instead of his mother's homemade pasta and tomato sauce. It was while he was home on leave that he met his future wife, Mattia, at a dance at the Cresthaven Country Club in Whitestone, Queens. They both loved dancing to Latin American music. In the spring of 1965 he was deployed with the 1st Infantry Division (The Big Red One) to Viet Nam. They were the first to land there. With the aid of helicopters, they partook in search and destroy operations and cleared the peninsula so that the rest of the American troops could land safely. They were constantly barraged with sniper fire.
In November of 1965 he was transferred to the U.S. Army Personnel Center in Oakland, CA where he received an Honorable Discharge with a Good Conduct Medal, a Viet Nam Service Medal, a Combat Infantry Man's Badge and a Marksman (Rifle) and Expert (Rifle) Badge. Upon his return home, he resumed his employment in the construction industry and later became a foreman. Many years later, a day after the World Trade Center disaster, he was assigned to work there for six months rebuilding sewer lines, gas lines and restoring electrical power to the area.
In October of 1967 he and Mattia were married. They bought a house in Lynbrook, NY where their first son, Anthony, was born and in 1974 they moved to North Woodmere where their second son, Sal, was born. They moved to Merrick in 2003 after their children had graduated and married. They are the proud grandparents of four grandchildren: Louis, 2003, and Nicole, 2008 born to Anthony and Joanne; and Dominic, 2005, and Gabrielle, 2007 born to Sal and Maria.
Louis retired from his job at the end of 2010 having been a member of his union for fifty years, most of that time with the same employer. Unfortunately on December 28, 2010, he was diagnosed with renal carcinoma. In 2011 his left kidney was removed and he participated in a clinical trial at Sloan Kettering. After five years a small tumor was removed in his abdomen. In 2017 they found a small mass in his lung. Because it is too close to the heart, surgery was not an option. Lou continues the battle with the help of drugs administered as part of the clinical trial at Sloan Kettering.
Louis loves spending time with his grandchildren and family and friends. But his closest companion that is always by his side is not his wife! It's his dog Peppi, who is always content just to sit with him and never ever complains!!! And he is proud to be a member of the American Legion.
Courtesy of the Saraceni Family
The following article shows Louis G. Saraceni helping in laying the foundation of cement pavers for the construction of a shed at the Post in the September 8, 2020.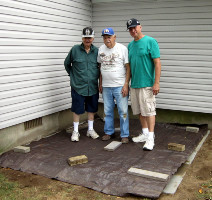 In the picture on the left, Post members (from left to right): Louis Saraceni, Joseph Ambrosino and Eugene St. John helped in the laying a foundation of cement pavers at the Post for the eventually construction of a shed. These Post members were assisted by volunteer support staffer Rick Ambrosino. The work was done on Saturday, September 8, 2018. A wooden platform base was also constructed by Joseph and Rick Ambrosino for the shed (the Post members in the picture are standing on it). Special thanks go out to Post member Michael Kersch for using his truck to transport the cement pavers from Home Depot and the wooden platform base for the shed to the Post.