In Memoriam - John R. Weber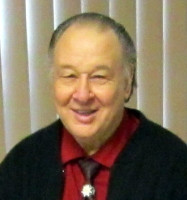 John R. Weber

November
13
, 1944 to June 17, 2023
On Saturday June 17, 2023, Post Member and Service Officer, John R. Weber, passed away and reported to Post Everlasting. John R. Weber was a great man and he was active membe in our Post. He was a good musician and used to play is keyboard at our Post Parties and at many Nassau County American Legion events. He would also provide his sound system at our Veterans Day and Memorial Day Events. He also chaired the Long Island Ducks outings for post members, their family and friends. He also would play the piano when our Post members used to visit the Veterans at Northport VA Hospital. He was a very personable person to talk to. His lovely wife, Eileen is a wonderful person to talk to. He was a Eucharistic Minister at Scared Heart Roman Catholic church and he belonged to the Knights of Columbus in Bellmore. He was a valuable asset to our Post and will be greatly missed.
American Legion, Merrick Post No.1282 members, please gather at 6:45 p.m. on Thursday, June 22, 2023, at Clair S. Bartholomew & Son funeral home on 302 Bedford Ave, Bellmore, NY 11710, for an American Legion solemn ceremony at 7:15 p.m. for Post member John R. Weber.
Merrick Post No. 1282, American Legion members, please gather, in full dress, at 9:30 a.m. at the Sacred Heart, Roman Catholic Church, 720 Merrick Ave, North Merrick, NY 11566 for an 10:00 a.m. Funeral Mass for Post Member John R. Weber, on Friday, June 23, 2023.
The following is information from Clair S. Bartholomew & Son Funeral Home:
Obituary of John R. Weber
Weber, John R., 78, of East Meadow on June 16th.
Devoted husband of Eileen. Beloved father of Michelle and Lisa. Cherished grandpa of Sequoia. Dearest brother of the late Marie, the late Walter and the late Freddie. Also survived by many loving nieces and nephews. Friend and Music Man to many. Proud U.S. Army veteran.
Visitation will be Wednesday, June 21st and Thursday, June 22nd from 2-4pm & 7-9pm at C.S. Bartholomew & Son, 302 S. Bedford Ave., Bellmore, NY.
Mass of Christian Burial will be Friday, June 23rd, at Sacred Heart Church, 720 Merrick Ave, North Merrick, NY 11566.
Burial to follow at St. Charles Cemetery, Farmingdale.
Clair S Bartholomew & Son Inc.